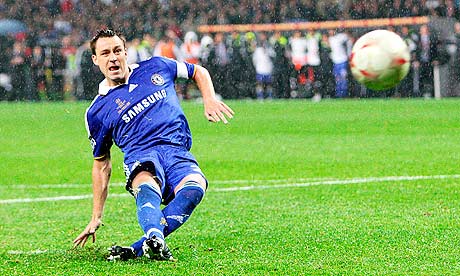 The Only Reason Why The United Fans Love Terry
It was almost dawn here in India,when finally we had a winner: an all-English game, fought in Moscow, the home town of Roman Abrahamovic.Two brave  men who people least expected to cry, wept that night: Cristiano Ronaldo, overcome by relief and joy, and John Terry, out of total despair.
The battle will resume again,this time over a two-legged tie,the teams remain almost the same especially the home side.Chelsea's record at home to United is very strong.  Six wins and four draws in the last ten, including five weeks ago when coming from behind.Of course they have had the rub of the green,but the matter of the fact is somehow they have managed to find the resources to beat United quite regularly
Talking Points:
1. David Luiz
Many people felt David Luiz as he is cup-tied will be missed in the Champions League,and in the first few weeks when i saw him i was relieved that he was unavailable against United.Great energy,good in tackles, brilliant with the ball Luiz was already a fan favorite at the Bridge.But his performance against Stoke City was poor,struggled to get to grips with Stoke's physical front-line at the start but grew to the task. Educational experience.Would have been interestin against an in-form Rooney
2. Chelsea Defence
Will Alex play or will Ivanovic play as center back and Bosingwa as right back?
Bosingwa hasnt been the same old bomber down the right flank since his return from injury,so if Alex is fit then i would say Ivanovic would be a better option
3. Ramires or Mikel?
Ramires has been impressive after some lackluster performance in the early part of the season,but if Ancelotti wants more cover for the defense then he has to sacrifice Ramires for John Obi-Mikel to partner Lampard and Essien in a midfield three.Having said this the League game between these two sides featured a 4-4-2 vs 4-4-2.
4. Will Torres start?
The centre-forward issue is interesting because Drogba did well at the weekend but played for the entire ninety minutes,so i expect Torres to star.The £50 million man has looked scarcely like a player worth £5m since his January switch from Merseyside.But if he scores against United or better gets Vidic sent off,he would surely be forgiven by the Chelsea Fans and even some Scousers will have something good to say about him. The Ex-Athletico Madrid Hitman has a formidable record against Manchester United and regularly torments the usually ice cold Nemanja Vidic, who has been sent off or booked on four occasions when playing against the striker and saw red last month against the Blues.
5. The United Midfield
Darren Fletcher such an important player in away games against the big teams,and we are not sure whether he can play or not,if not i think Anderson or Park will play in the Center which will provide the legs united need in thier midfield engine with other two being slow players with Carrick and Scholes.
6. Wayne Rooney
Wayne Mark Rooney is angry.The Manchester United striker is fuming at the punishment handed down for his foul-mouthed tirade at West Ham on Saturday.Even his English team mate Frank Lampard fears a backlash,as Rooney is one man who can decide this tie on his own.
Possible Line-Ups of Chelsea And Manchester United